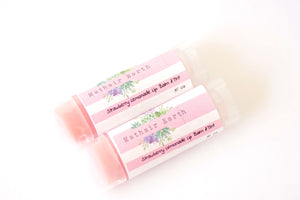 Strawberry Lemonade Nourishing Lip Tint
Our lip balms and lip tints are designed to both hydrate and protect your pucker. 
All of our products are made by hand with only the finest natural ingredients.
Small batches made in the heart of Idaho.
We personally have selected the specialty oils that go into our formula, each oil chosen for its ability to maintain hydration as well as attract moisture to your lips. Our lip balms give a subtle shine to the lips without leaving a waxy or sticky residue. 
Flavor: Lemonade with a hint of strawberry, a juicy and summery flavor. 

Color: baby pink + gold shimmer ***SHEER COLOR***
Directions: Apply as needed throughout the day and even before bedtime. We recommend exfoliating your lips once a week to help remove an excess of dry skin. Our lip balms and tints can be worn as a base or over other makeup. 
Does not contain:
- Parabens
- mineral oil
- petroleum or petroleum byproducts. 
*we do not test on animals*
Approximately .15oz | 4.25 gr
Full List of Ingredients: Shea Butter, Cocoa Butter, Mango Butter, Sesame Seed Oil, Candelilla Wax, ceteryl alcohol and behentrimonium methosulfate (conditioning emulsifier), vitamin E, and & flavor oil.