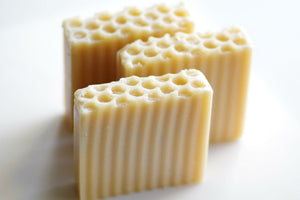 Grapefruit Bellini Kombucha Soap
Our kombucha soap is built to lather with increased density and creaminess,  gliding with ease as you shower stagnant sweat and build up off your body. 
All of our products are made by hand with only the finest natural ingredients.
Small batches made in the heart of Idaho.
Each and every batch is formulated with a  diverse collection of oils to ensure the bars are moisturizing, soothing, & cleansing. Each batch of kombucha soap is made with our own in house kombucha. 
Scent:  A sparkling scent full of lively grapefruit with undertones of peach, pineapple, and rhubarb. A perfect tropical summer day sitting on the patio with friends would be this invigorating scent.

Directions: Wet the bar, create a rich lather with your hands, & apply generously to skin. Suitable for everyday use. Recommended use is on hands and/or body.  
  Does not contain:

- Parabens
- Sulfates
- Phthalates 
-Palm Oil

*we do not test on animals*

Approximately 5 oz | 142 g 

Full List of Ingredients:

Distilled Water, Coconut Oil, Olive Oil, Apricot Kernel Oil, Babassu Oil, Avocado Oil, Sesame Oil, Safflower Oil, Mango Butter, Castor Oil, fragrance, and soap colorant.