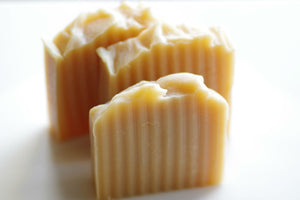 Lost in the Library Beer Soap
Our beer soap is designed to lather both thicker & fuller, promising your skin a frothy shower experience while bringing out the most healthy and natural glow. 
All of our products are made by hand with only the finest natural ingredients.
Small batches made in the heart of Idaho.
Each and every batch is formulated with a  diverse collection of oils to ensure the bars are moisturizing, soothing, & cleansing. Each beer soap is made with a specialty ale, hand selected from one of our local coops or breweries. 
Scent: Lover's of books rejoice, this soap will envelop you like a good old book. Full of note layers such as Italian bergamot, patchouli, vetiver, leather, musk, and cedar wood. Close your eyes and imagine walking into a library full of leather bound, older editions. The pages cracking as they are turned and the smell of the ink floating off the pages as you are whisked away into your own story line. 

Directions: Wet the bar, create a rich lather with your hands, & apply generously to skin. Suitable for everyday use. Recommended use is on hands and/or body.  
  Does not contain:

- Parabens
- Sulfates
- Phthalates 
-Palm Oil

*we do not test on animals*

Approximately 5 oz | 142 g 

Full List of Ingredients:

Distilled Water, Beer,  Coconut Oil, Olive Oil, Apricot Kernel Oil, Babassu Oil, Avocado Oil, Sesame Oil, Safflower Oil, Mango Butter, Castor Oil, fragrance, and soap colorant.