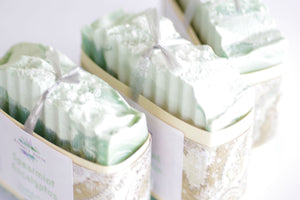 Spearmint Eucalyptus Essential Oil Soap
Our essential oil soap is made to stimulate your senses and promote natural skin health with special attention paid to the selection of every oil and its inherent properties. 
All of our products are made by hand with only the finest natural ingredients.
Small batches made in the heart of Idaho.
Each and every batch is formulated with a  diverse collection of oils to ensure the bars are moisturizing, soothing, & cleansing. 
Scent: mint and spa merge together forming the quintessential awakening scent that is cooling and uplifting in all its essential oil glory 

Directions: Wet the bar, create a rich lather with your hands, & apply generously to skin. Suitable for everyday use. Recommended use is on hands and/or body.  
 Does not contain:

- Parabens
- Sulfates
- Phthalates 
-Palm Oil

*we do not test on animals*

Approximately 5 oz | 142 g 

Full List of Ingredients:

Distilled Water, Coconut Oil, Olive Oil, Apricot Kernel Oil, Babassu Oil, Avocado Oil, Sesame Oil, Safflower Oil, Mango Butter, Castor Oil, and essential oils.